Trendy New Clothes For Fall (online wishlist)
September 28, 2017
I love online shopping because it allows you to sit on the couch in your pjs, pick out a bunch of cute clothes, and then turn off your computer when you see your cart total. And that's exactly what I did today for this post.
I've already done all my fall shopping and purchased all my clothes from consignment shops and clearance racks, because that's what you do when you're on a student budget and saving up for college is more important than buying expensive new clothes.
So that's why today I thought it would be fun to go online to some of my favorite stores and find all the cute new fall clothes and styles. These items are in no particular order and I will be putting the links to the items below the pictures in case you want to purchase them.
Graphic Sweaters are very popular this fall and I love the shortness of this one. Graphic Sweaters would look so cute with a pair of jeans or some leggings and boots! This one is from Charlotte Russe.
Lace-Up Floral Top





The second thing I found is this super cute and casual top from Forever 21. This would make a great casual outfit and lace-up tops are very popular right now!
Rompers have been in for awhile for fall and summer but I thought this one from Macy's was super cute and has colors that are perfect for fall!
I have something very similar to these in black that I haven't been able to wear due to warm weather but I love the fishnet inserts so much! I think it adds so much style to a boring pair of jeans! These particular ones are from Forever 21 (I got mine at Charlotte Russe in case you were wondering).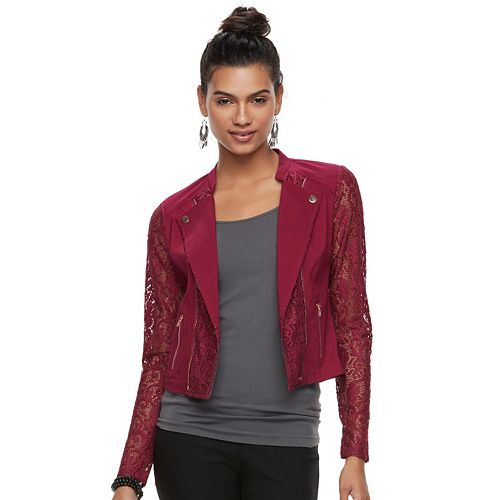 I saw this in person and it looks so much better than the picture! The lace makes the jacket look so fancy and I just love the whole style of it! I haven't seen anything like this anywhere else but Khols.
Okay I wasn't sure about these pants at first and they almost didn't make it into this post but the more I look at them, the more I like them. I've seen this style everywhere and they do look very comfortable! I found these at Macy's but you can find the same style at almost any clothing store.
Overalls have become so popular over the last few years, and although I have never owned a pair myself, I think they would look cute with a long sleeved shirt underneath or a jacket over them. This pair is from Forever 21 and are also available in black.
Honestly the only reason I like cold weather is so I can wear my moto jacket. Moto Jackets can be very pricey but if you can find a good deal I promise it is worth the investment. This one is only $25 from Charlotte Russe.
And last but not least, it would not be Fall without sweaters. This one is pretty basic but I love the Lace-Up part! And the Cocoa color is perfect for fall!
Well that's all I found today, and just for fun, the total of that adds up to over $200 which is way more than I would actually spend on clothes but wishing is always fun! I hope you enjoyed this post and I hope to be doing more fashion/lifestyle posts in the future!